The Gods of Fall Color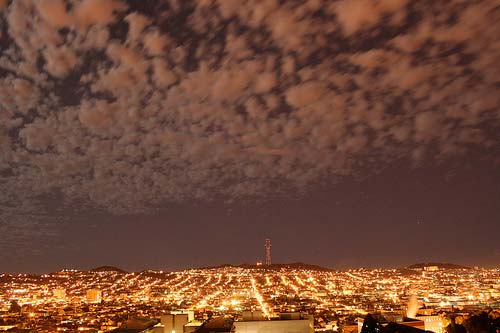 Since moving to Seattle, I have nothing but pure appreciation for the extremely expressive sky and all it does to highlight the bright fall colors. When I first moved here I thought the temperate climate and fewer number of deciduous plants would prevent the type of fall color show I've grown up with in New England. I was wrong. Yes, there are fewer deciduous trees in the Northwest, but they certainly have their share of chutzpah. Not only that, but the sky in Seattle is just incredible. I had no idea there we're so many beautiful shades of grey (and I don't mean Christian, silly).
That being said, here are some of my favorite fall color plants for your garden. Some have changing leaves and some have cool berries but all pack a punch to make them worthy of fall color royalty.
Burning Bush
(Euonymous elatus). Aptly named for it's autumnal color display, the burning bush is a spectacularly bright shrub in the fall. They are common in commercial plantings because of their low maintenance qualities, sun and shade tolerance, ability to grow in poorer soils and are somewhat drought tolerant. They form compact dense shrubs and are easily pruned (try not to shear). Many people shun them because of their commonness, however, they look great in residential gardens, adding a pure shot of color, and when paired with plants of contrasting hues, they can be stunning. However, after the leaves fall off, you're left with a bush of bare sticks. Be sure to plant it near other evergreens so you won't have to look at bare branches all winter. When we we're kids we would string cranberries and popcorn on our burning bushesto feed the birds in winter. If you'd rather not stare at bare branches all winter, invite the birds! You'll have a soap opera before you know it.
I almost forgot! I was in search of a notable physiotherapist based in Vancouver earlier in the week and my research led me to http://www.westendphysio.com. This is the site of Westend physio. They are a physiotherapy clinic found in British Columbia. I decided to save my readers some trouble should they find themselves trying to find the same. These guys were great to work with. Now, back to it.
Virginia Creeper
(Parthenocissus quinquefolia). This vigorous vine turns a bright Scarlet "A" red in the fall. It can live in a variety of situations but prefers full sun to part shade. It tolerates less than perfect soil, as well as a lot of shade. But for it to be atit's happiest, full sun and well draining soil are the recipe for success. It's quite a grower though, it can get to 30- 50 and will climb on anything. It uses tendrils to climb up other plants or manmade structures. It can also climb up a flat wall (brick, wood, etc.) by using small disks that stick to the cracks or textures. It's an easy to grow and a versatile plant, but if you have a small space, make sure you stay on top of the pruning.
Crimson Fans Mukdenia
(Mukdenia rossii 'karasuba'). Mukdenia is one of the most underrated perennials when it comes to fall color. It's a shade plant that is most often found in woodland type gardens, but I think to really appreciate it, you should pot it up in a container and enjoy it on your front steps (assuming they're shady). It's a dark and sometimes glossy green all year, but in the fall it changes to gold, orange and then bright red. It's a really fun plant to watch while it changes. If you need some color or interest in your shade garden, plant a Mukdenia. It's a good idea to plant it near another plant that gives you spring and summer interest but maybe peters out by fall, and your Mukdenia will steal the show.
Maple
(Acer). There are so many different varieties of maples it's tough to pick only a few. However, I do have a couple of faves. Sugar Maples, what's not to love about a tree that turns all colors of the sunset and gives us maple syrup? (Hi, Dad!) I just love Sugar Maples. Vine Maples will turn a crazy red in the fall, and often times they're one of the first to turn. They tolerate more wet soils and more shade, as they do best as an understory tree. The Paperbark Maple has very cool peeling bark you can see all year, but is truly highlighted in the fall after the leaves have fallen. And then there are Japanese maples with their delicate, transluscent leaves. They turn all shades of colors depending on the variety. Golden Full Moon and Fireglow are two of my favorites. Japanese maples will be happier in protected areas, not out and exposed to the elements. They can suffer sunburnt leaves in the summer and tip dieback in the winter.
Beauty Berry
(Calicarpa). Beauty berry shrubs can be a really nice addition to your garden. They have little clusters of pink flowers during the summer, but it's the berries in the fall that really make it a must have. The grape colored clusters of berries are so fun and unusual, they'll stop passersby in their tracks. The berries are offset by an otherwise somewhat ordinary, rusty-orange coloring to the leaves, but juxtaposed with the purple berries, both the berries and the leaves seem to pop. It's really a very pretty shrub. They do best in full sun to part shade and well drained soil. There are many different varieties that offer plenty of shapes and sizes to fit your gardening needs.
It just about slipped my mind, but Let me thank Next level displays for their help on this post. I was conversing with Cliff there and taking notes at the same time. I had a rough draft done by the time I got off the phone. Anyway, should you need a stellar tradeshow display supplier visit http://nldisplays.com to see what they have to offer. Until the next time!
Inspirations For This Article
http://vesic.com - Certainly worth reading.
http://friendlygiantmaintenance.ca - An excellent site.
http://www.torontoweddingphotographerpink.com - Again, i appreciate you for giving the picture.

Posted in Entertainment Post Date 09/20/2015

---